Trailblazers
Since 2009, Metfone (Viettel Cambodia) or the Vietnam Rubber group have been hailed as pioneers in exploring the Cambodian market. Next came MBBank in 2011.
These businesses have left their footprints in Cambodia's telecommunications, agriculture and financial sectors by establishing effective strategic cooperation.
When Metfone first started operating in Cambodia in 2009 with an investment fund of US$ 150.3 million, the telecommunication giant was an unfamiliar name to the market. After a short while, the company helped the telecommunication sector in Cambodia to blossom. By the end of 2020, Metfone's cumulative data subscriptions accounted for 75% of total subscriptions in Cambodia.
In the banking sector, the Bank for Investment and Development of Vietnam and Sacombank established branches in Cambodia and quickly achieved success. By the end of 2016, the Bank for Investment and Development of Cambodia had a chartered capital of US$ 100 million, making it the sixth largest bank in Cambodia. Around the same time, Sacombank Cambodia's total assets reached US$ 172.3 million. The appearance of more Vietnamese banks in Cambodia shows that investment from Vietnam will continue to increase.
In January 2014, dairy product giant Vinamilk was permitted to co-invest in milk factories in Cambodia with Angkor Dairy Products Company Limited. In March 2017, Vinamilk increased its investment to US$ 21 million, becoming the owner of Angkor Dairy Products Co. With a total investment to date of US$ 28.7 million. Vinamilk is so far the only Vietnamese dairy company in Cambodia, with an annual export turnover of roughly US$ 50 million.
Vietnamese businesses in Cambodia also aim for increasing cooperation. The year 2021 marked 10 years since Metfone and Vietnam's Military Commercial Joint-Stock Bank in Cambodia established strategic cooperation.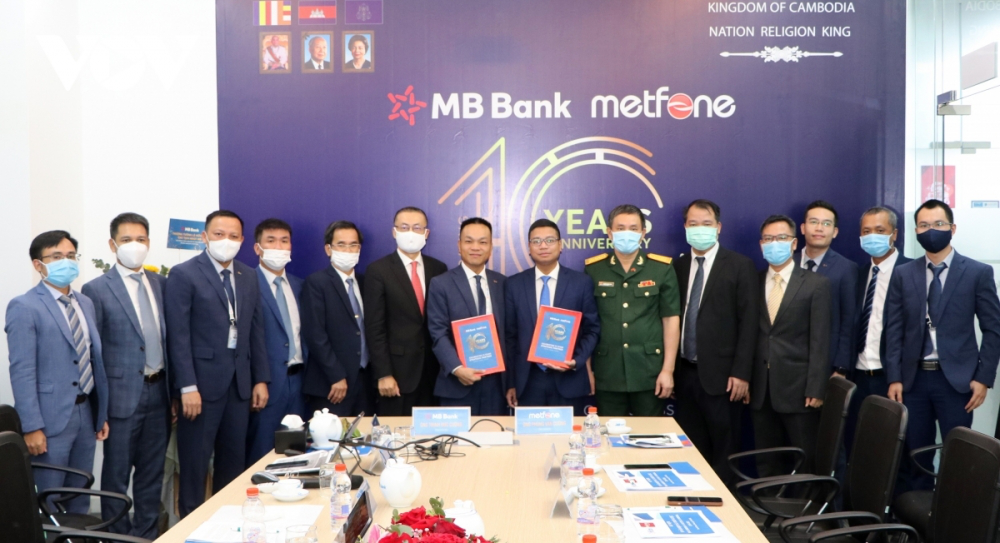 In the past 10 years, Metfone and MB Bank have been supporting each other to improve product quality and provide better services to Cambodians. 

Photo: Vietnam Times
The two corporations also organized social activities such as providing resettlement support for Vietnamese Cambodians in Kampong province and helping Vietnamese Cambodians and Cambodians affected by natural disasters and pandemics.
A market with immense potential
Cambodia has significant land resources and needs for long-term cooperation in aquaculture and agricultural processing. The supply shortages of some products create advantages for Vietnamese businesses investing in Cambodia. Other sectors with potential for development in Cambodia include tourism, transportation and logistics, construction, education and technical training.
Vietnam is an essential link in the North-South, East-West and Southern economic corridors with many integral routes such as Da Nang – Laos – northeastern Thailand – Bangkok, Vung Tau-Ho Chi Minh City- Phnom Penh – Siem Reap- Bangkok, Ca Mau-Kien Giang – coastal Cambodia-Bangkok, and Hai Phong – Hanoi – Lao Cai – Kunming. This creates immense opportunities for Vietnamese businesses to accelerate trade, reduce costs and increase profits for other businesses in Cambodia and the region.
Vietnam is currently the fifth largest investor among 70 countries and territories that have been investing in Cambodia. Vietnamese businesses are mostly active in agriculture (rubber and dairy), fertilizer production, health, banking, aviation and telecommunications. In 2020 alone, about 220 projects by Vietnamese businesses were approved by the Cambodian government with a total capital of approximately US$ 5.3 billion, accounting for 15.2% of foreign investment projects in Cambodia.
Vietnam's investment in Cambodia has boosted socio-economic development in both countries and created jobs for thousands of workers. According to the Vietnam Trade Office in Cambodia, Vietnam-Cambodia trade turnover reached US$ 1.331 billion in the first two months of 2021, an increase of 64% compared to the same period in 2020. Vietnam recorded a trade surplus of US$ 125 million with Cambodia around the same time.
Investment opportunities despite the Covid-19 pandemic
Despite impact from the Covid-19 pandemic, bilateral trade between Vietnam and Cambodia reached US$ 5.3 billion in 2020, with tremendous efforts from both sides. At the same time, Vietnamese businesses continued to prosper and create jobs for workers in Cambodia.
On exporting activities, Vinamilk continues to look for new opportunities in potential markets despite the pandemic. Angkor Milk, Vinamilk's branch in Cambodia, continues to record two-digit growth. In 2020, the Cambodian market observed positive outcomes, with revenue growth of 19%.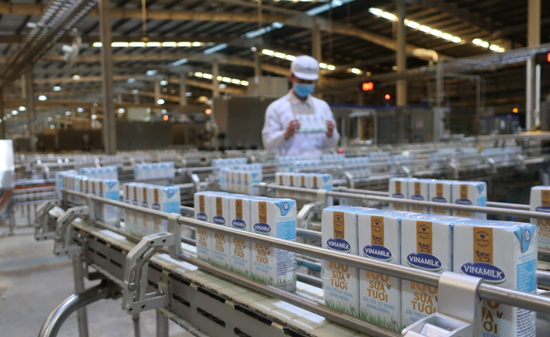 Vinamilk's production is maintained despite the Covid-19 pandemic. Photo: Vietnam Times
Assessing the potential for development facing the complex and unpredictable Covid-19 circumstances in Cambodia, Metfone CEO Phung Van Cuong said the corporation could achieve a growth of 7-8% in 2021, although this would be an immense challenge.
In 2020, Metfone aimed to lead the digital service market in Cambodia, focusing on data subscription transfer and digital wallet subscription to create their own digital ecology.
Director of Agribank Viet Nam in Cambodia, Chairman of Viet Nam Business Club in Cambodia Nguyen Thanh, Dung said Vietnamese businesses in Cambodia had quickly adapted to the pandemic, maintained normal business operation and used the situation to look for further investment opportunities.
Sophie Tran